Isle of Mull
November 2016
Hiya folks, thanks for visiting our website and taking in the latest of our blogs, namely our 10 day visit to the wonderful Isle of Mull.
We arrive at our destination in Loch Don on Monday 7th after travelling up from Lancashire. We should be arriving around 17:30.
Keep visiting on a daily basis and we will do our best to keep you informed of events....almost as they happen!
Monday 7th November
Left Lancashire at 10:00am and arrived in Oban at 15:35. Ferry tickets obtained, we sailed twenty-five minutes later slightly ahead schedule.
Took an alternative route today to get to Oban. Half-way up Loch Lomand, we did not, as normal, turn right at Tarbet onto the A82 going to Crainlarich and from there to Oban. Instead we kept straight on (which is the A83 to Inverary). After Inverary, we kept on the A83 until we reached Lochgilphead, where we turned off onto the A816, which if you follow it for long enough, eventually leads you to Oban.
This area is the Northern part of the Mull of Kintyre Peninsular and the scenery is really quite lovely. Not as rugged as the highland route to Oban, but we hardly met a car or lorry the whole way and the scenery changes every few miles. Lovely drive.
Back to the crossing to Mull. Flat calm. Buster stayed in the car because his walking is now so bad. Halfway across, we saw a breaching pod of porpoises right next to the ship. About ten or twelve in all. A great welcome to Mull and hopefully a good omen for photographing wildlife in the coming week or so!
However, I can only say that the forecast for the coming days is not too promising, to say the least!
Let you know what happens to us tomorrow!
Tuesday 8th November
Morning!, it's not too bad today! Although, it does seem to be struggling against the rain. Surely enough, by 11:00, it's started! and doesn't stop!
First thing of note whilst watching from the bedroom window is that even though we only put out the feed last night, the response is phenomenal! there are loads of LBJ's (little brown jobbies!)
Robins', finches, tits, thrushes, etc, and lo and behold....(i'll be going for them tomorrow, weather permitting!) Gold crests!First thing of note, was a glimpse of white through the binoculars! White Tailed Sea Eagle! within hours of arrival!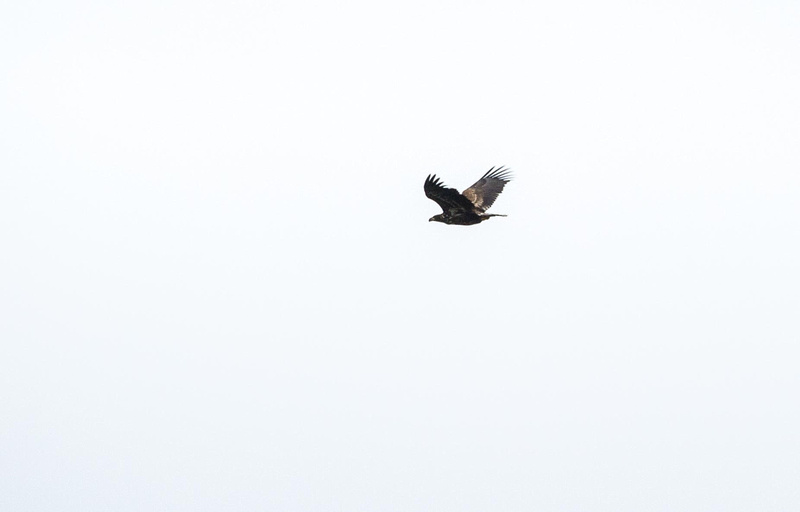 Tough decision.....beans on toast or go and see what we can get! No contest, beans went on hold!
Whizzed over to the Grasspoint Road. Looking east, could not see a thing!
However, I disturbed a few Red Deer (see photo) and although I stayed for half an hour or so!, I could not see the WTSE from where I was.
What I did manage to see however, was a female hen harrier, albeit fleetingly! No picture unfortunately!
Saw this Common Gull fishing for crabs, but everytime he caught one, he vanished from sight and by the time I got to where I could see him, he had finished his supper!
One thing I saw today that I have never witnessed before was a gathering of herons, called a siege or sedge. At one point Stef counted 23 herons flying round over the island in Loch Don. It was really amazing 20+ of these very large birds flying around and then suddenly melting into the ground. This happened several times over a period of an hour or so.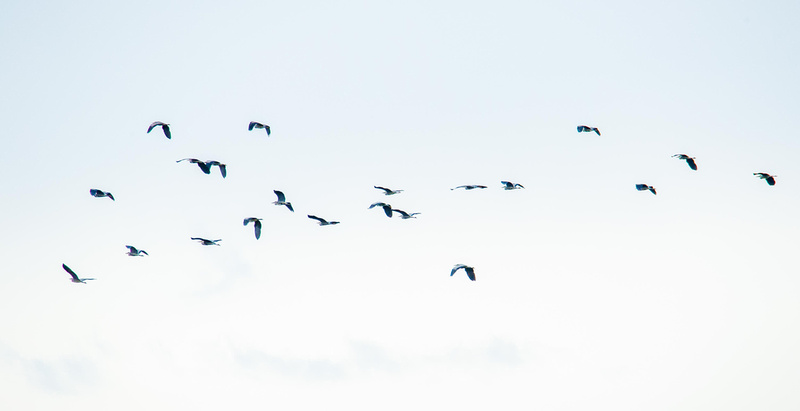 After breakfast, we needed to get to the supermarket in Tobermory to "get in" for the days ahead!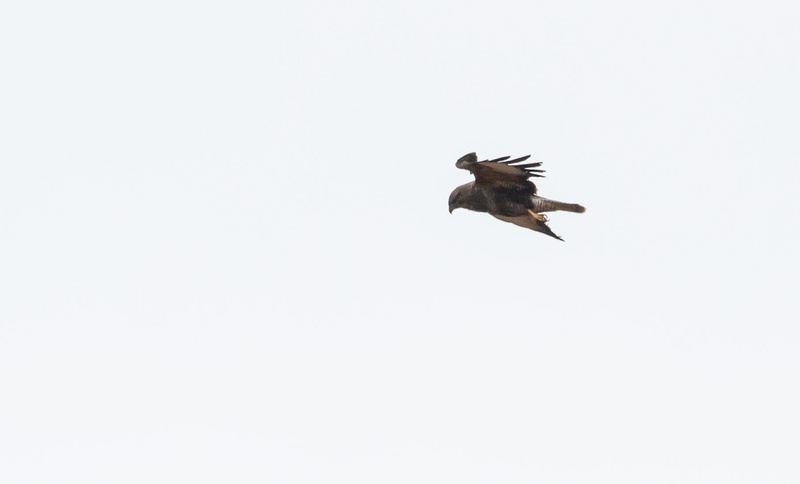 Saw a number of buzzards between Craignure and Tobermory. This one appeared just outside Tobermory and was doing a great job of mimicking a kestrel as he hovered in the skies above the road. He could only achieve this feat though as it was blowing a houlie (quite windy!) at the time. The distance and the plain grey sky made capturing the detail very hard indeed, over-exposing by up to two full stops.
When we arrived back at Loch Don, two Swans had settled on the Loch. I was hoping for Whooper or Bewicks, but alas no, they are Mute!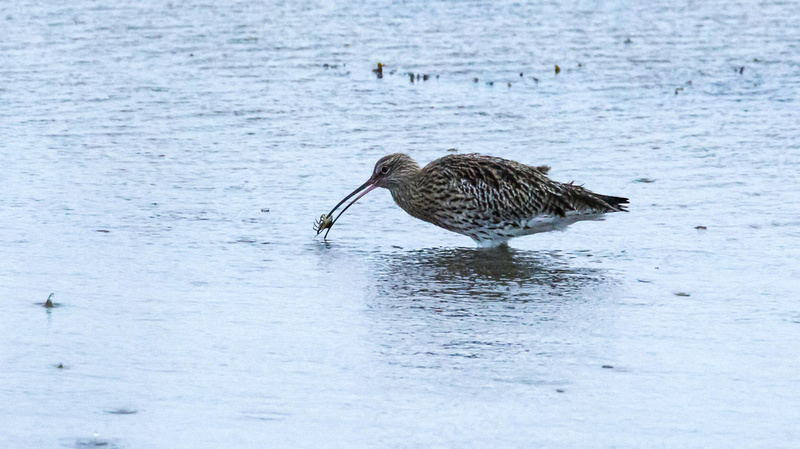 Absolutely throwing it down by now, so didn't see a great deal, except for this curlew fishing for crabs!. There were several other waders and ducks but the conditions were too poor for a decent photo!
Weather forecast is not good for the next few days, so lets see what we get!
In the meantime, I hope you enjoy the photo's and we'll see what happens tomorrow!
Wednesday 9th November
Up early for a walk around Loch Don before breakfast - greeted by Buzzard on telegraph outside the front door! and a few deer a little further up the road.
Breakfast over with, we decided to have a hunt the otter day! We set off about 10:30 wish in reasonably bright weather. On our way over Glen more we had a brief glimpse of Hen Harrier on the right, just before Inverlussie Mussel farm. Then, as we drove over Glen More towards Pennyghael, we found ourselves presented with about 10 or 12 buzzards in different places along the way.
along with a few other critters!
Eventually we settled down to looking and waiting for Otters to show! quite a wait but we were rewarded after a while with not one otter....but three! Here's a selection of images.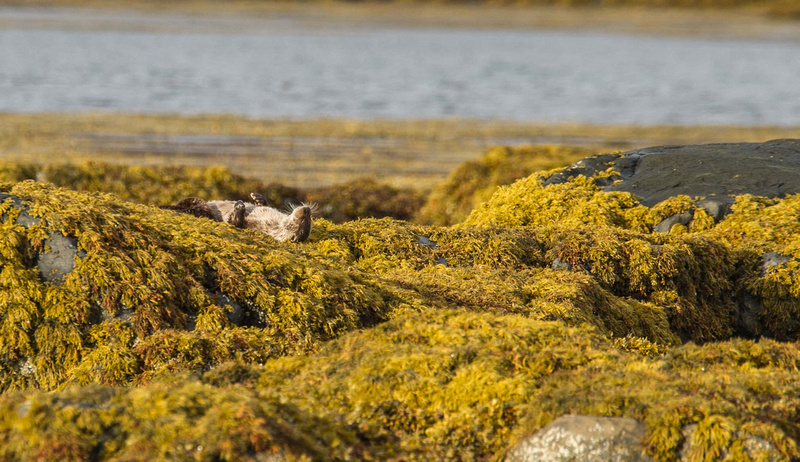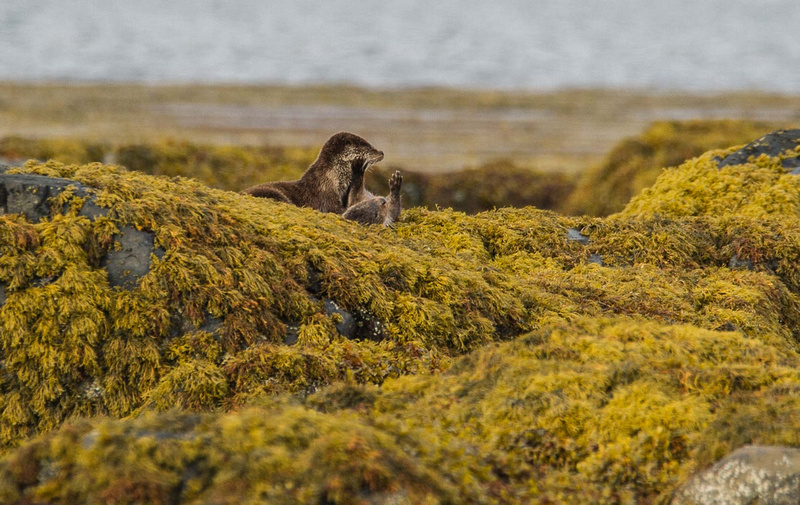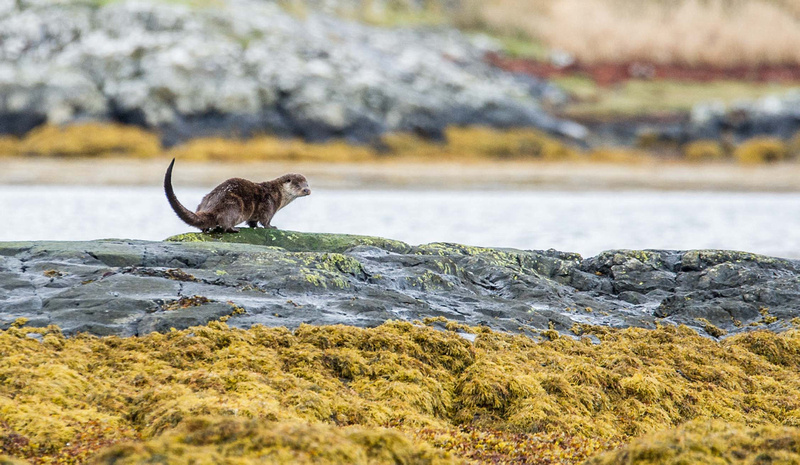 They stayed around for about two hours. Unfortunately, every time they caught something, and brought it ashore to east, they were out of sight behind the rocks! - can't have everything I suppose!
After they disappeared, we set off for Loch Na Keal and on the way we managed to get a few more images of our encounters!
This little one, was on it's own as far as we could see!