Saturday 12th November, 2016
Hiya folks,
Sorry to have been away for a couple of days, but we have had some very nice people around (yes, we mean you Ian & Helen!), visiting us for a couple of days....so I am afraid they took precedent over the blog!
Yesterday with Ian and Helen was a bit of a wash out!.....we had such promise with two otters tempting us with their presence.....only to be kept at arms length.....well really it was very much more than arms length.... but you know what i mean!
They never came close although we are watching for two hours!
Today (Saturday), Ian and Helen went home for a prior engagement....and we took up the scouting, awaiting their return in a few days!
We headed back to Pennyghael, where we were yesterday, where Brian, the local wildlife guide, told us as we entered his shop, that we had missed the otters quite "close in" by a matter of half an hour! So what else is new!
So today we made sure we were an hour early on site!......and guess what?....yep, they never showed, between Stef and myself, we covered the best part of half a mile of coastline! and nothing!..... Wildlife can be so frustrating!
So, by two thirty, we had decided to move on. Headed toward Loch Na Keal......Never got there! Within half a mile of the "scenic route" junction, we spotted a harrier, quartering the fields to the right of the road. Eventually, we managed to get reasonably close and even managed images of not one, but "two" harriers!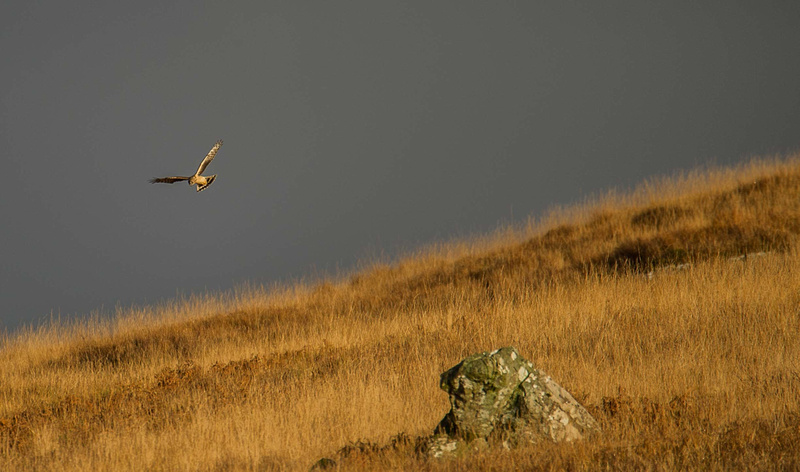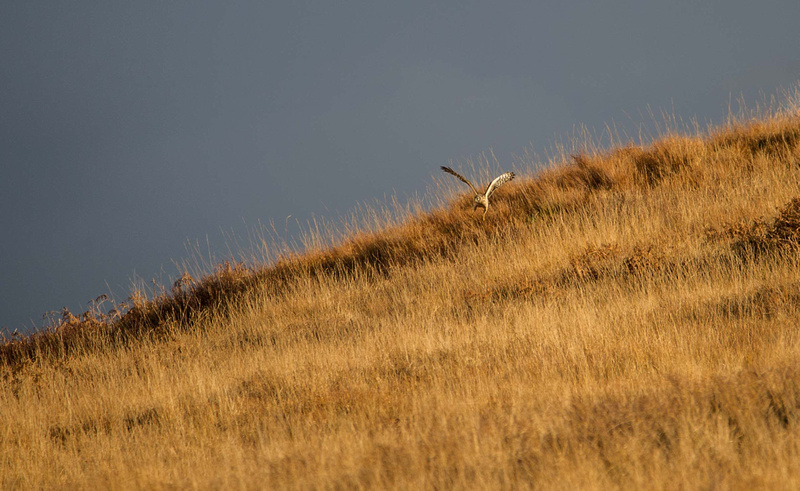 As always, they are never close enough, but, today, they are the best Harrier images we have.
Never seen a Buzzard with an Otter in its claws before! Thought this one was very funny!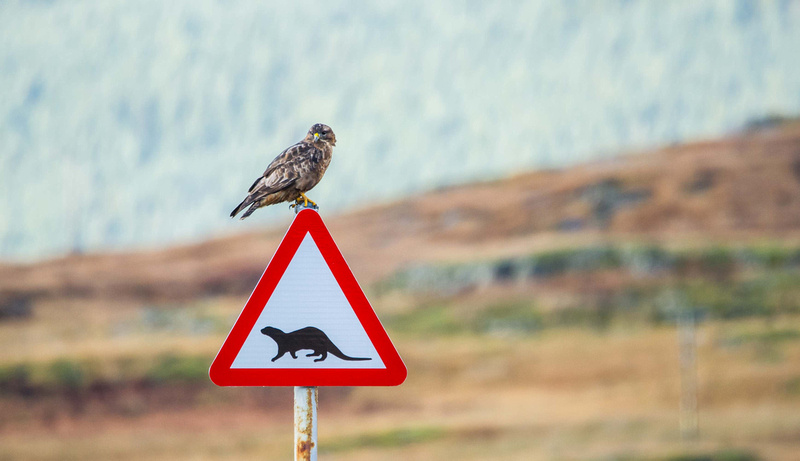 This Hooded Crow has a small bird (unless you know better!) in its beak.
The light was beginning to fade as the stormy weather came over and the lighting became more dramatic. Just had time to take this before it threw it down!
By this time, light was fading and we had to head toward Loch Na Keal, and Salen, as we had to get in some stores!
On the way, we followed an otter to a place where I believe it may hold up!....one to watch for the future! Poor light and an uncooperative otter prevented a decent photo......this is as good as I got in fading light.
A quick drive to Salen revealed around twenty seals heading towards Knock!
we called in to the "very well equipped" stores in Salen and stocked up for the next few days.....Great Meal from Stef tonight!!
Anyway tomorrow is another day....so watch this space!
Sunday 13th November
Don't know why you are watching this space for!.....oh yeah, I told you to! Sorry, forgot!
The weather today was floor to ceiling mist, cloud, rain, drizzle, ALL DAY!
Still went out to check out the otters. yeah one (possibly two) showed briefly, one close in just before the Pennyghael Hotel but, after watching from the road in the car for a few minutes, he just vanished!
Slightly later, further down the Loch, another was sighted, again fairly close in on the rocks and in the water but again, after watching for a while, it too vanished!
We decided to head back home to Loch Don and on the way Stef decided that she wanted to go to Loch Buie and have an ice cream, whilst parked on the beach, so 10 miles later, we arrived at the beach and guess what?....no the smallest post office in the world wasn't closed!....No, it was open!....at the end of the second week of November! Only trouble was....they had no ice creams in the fridge! - gutted!
Only consolation was spotting an otter making its way down Loch Spelve and guess what?.... yep, after watching two dives, again from the car on the road, it just disappeared! Three for three!
The weather was deplorable today, but at least we still saw plenty of buzzards and three otters, none of which were worth photographing! (as the light was so bad!)
Anyway, "tomorrow", as they say, "is another day" - although the forecast is still for poor weather!