RSPB Leighton Moss
September 29th 2016.
Time - 07:30 - 10:30 hrs
Weather is set for fine with light cloud, although still breezy, (gusts to 40KPH!).
So, off to bed early and wake up to a beautiful sunny morning.....
Well, that was the theory and to be honest, it was quite accurate.... and therein lies the problem. The Bearded Tits showed just fine and in reasonable light, but the wind was blowing the reed stems about quite a lot so it was necessary to increase speed to reduce blur. So some of the ISO's were not as low as they could have been.
When walking up to the grit tray site, watch for the Bearded Tits appearing from the trees and reeds about 30 feet on the left hand side, before you get to the viewing area. If you don't keep your wits about you, you may end up dispersing them for a while. When they have finished with the grit trays, some of them reverse their route back across from the trees on the left to the reeds on the right, so keep an eye open for them moving back again. The images of them in the trees are quite different from the reeds!
When you are at the grit tray site on the causeway, the left hand end of the viewing area is the best, as you have a better angle of vision of the grit trays, and you also get more of the reed edge visible for spotting movement and "seeing" into the reeds.
Even when they are not visible, look out for the tops of the stems shaking! In this way you can attempt to follow their movement, and quite successfully predict the point at which they exit the reeds. You may get a couple of seconds advantage over "the opposition!". Similarly, try to pick a target and stay with it, otherwise you tend to find yourself flicking around trying to focus, near, then far, then near again. You end up missing most of them.
After getting a few decent shots, I tended to wait to see if they would venture nearer to us. Several of them did, so keep an eye open for them popping out of the reeds right in front of you!
Over a period of three days, I managed to see about a dozen at any one time - and yes I did manage to improve on the ISO's!
About 8 Bearded Tits showed and spent quite a bit of time on and around the grit trays.
Nikon D3s, 1/800 sec @ f/10, ISO 640, 600mm Tamron.
Loved trying to focus them amongst the reeds - you can see the stems moving, but where they are going to appear is anybody's guess!
Nikon D3s, 1/200 sec @ f/8, ISO 1000, 600mm Tamron (DX crop enabled - approx 900mm)
As you are probably all aware, the birds diet changes in the winter period. They move towards eating seeds instead of insects and therefore eat the grit, to enable them to digest the seeds better. They are a really spectacular bird aren't they!
Nikon D3s, 1/250 sec @ f/6.3 ISO 640, 600mm Tamron (DX crop enabled - approx 900mm)
Be prepared to increase speed to freeze movement caused by the wind on the reeds.
Nikon D3s, 1/200sec @ f/8, ISO 1400, 600mm Tamron (DX crop enabled - approx 900mm)
I found that most of the time, pairs usually arrived together!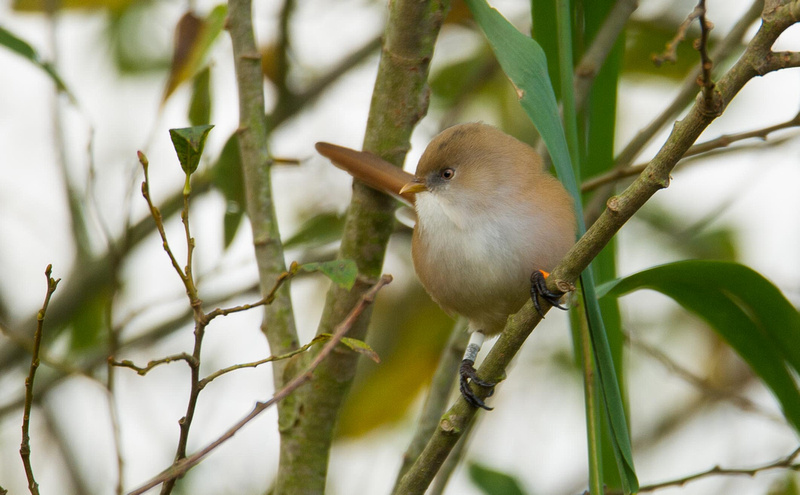 Nikon D3s, 1/250 sec @ f/6.3 ISO 280, 600mm Tamron (DX crop enabled - approx 900mm)
The bird images in the trees do make for a totally different image than the reeds.
Just hoping that next time I go, I get a bit better weather, with more sunshine and less wind.
At least we don't have to get up at "silly o'clock" to photograph these gorgeous birds!
Generally speaking, be there for 08:30 and they could show at any time in the next couple of hours, but usually they appear before 10.00am.
Good Hunting!